Start Planning for a dental career. You can choose to become a dentist, or one of the valued members of the dental team: dental hygienist, dental assistant or dental laboratory technician.
Regardless of the dental career you are considering, find out everything you can about it to determine if it is a good fit for you. You might also consider job shadowing at a local dentist's office.
Be A Dentist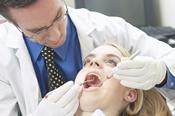 Would you like an opportunity to join one of the most respected professions in the country? Provide a needed health service? Use artistic talent as well as scientific knowledge? Create healthy smiles? Own your own business? If so, then a career as a dentist may be right for you.
The future looks bright for the profession of dentistry. New information about the relationship of oral health to overall health makes dentistry an important health profession for the future.
As well, large numbers of dentists are projected to retire in the next 20 years, and new dentists will be needed in private practice, as teachers and researchers, and in public health dentistry.
Check out the websites of Nebraska's two College's of Dentistry.
Be A Dental Hygienist, Dental Assistant or Laboratory Technition