Join Now!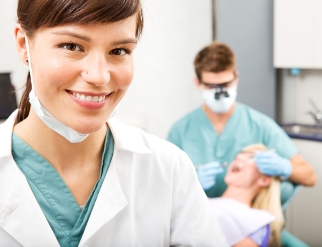 If you are a graduate of dental school and are entering a grad program, please complete this application and return it to the NDA office.

If you are an NDA member and will be retiring from the practice of dentistry, fill out and return an Affidavit for Retired Membership so that your dues status may be changed. Please return the affidavit to the NDA office.

Write a check or give us a credit card number for the appropriate amount of your dues (We accept Visa, Mastercard, Discover, and American Express);

Send the application and the correct amount of your dues to the NDA office and we will take it from there!!

Omaha District Dental Society For specific questions about the Omaha District Dental Society, please contact Holly Herman,
Executive Director at:

c/o 106 South 51st Avenue
Omaha NE 68132
Phone: (402) 551-6503
Fax: (402) 556-6449
Cell: (402) 616-6454
Membership Benefits
Why should you become a member of the Nebraska Dental Association? Because membership in your professional association benefits YOU! If you have any questions, please contact the NDA central office at 402-476-1704 or 1-888-789-2614.
Membership gives you:
Peer Review - Dedicated members confidentially mediate dentist/patient grievances without costly litigation saving you thousands in attorney fees;
Member only services - Insurance programs and financial services.
Legislative Voice - The NDA maintains active contact with legislators and our lobbyists and legislative committee strengthens the voice of organized dentistry in Nebraska, all of which ultimately affect YOUR practice of dentistry in Nebraska;
Contract Analysis Service - The ADA's legal counsel will review dental provider contracts submitted by members through the NDA office. This service enables the dentist to make an informed decision regarding participation in dental plans. For more information on this service, contact David O'Doherty at the NDA office;
RECENT DENTAL SCHOOL GRADUATES!
A common misconception by dental students is that they are automatically moved into membership with the ADA, NDA, and their local district. This is not the case. Graduates from dental school must complete a membership application before their membership becomes effective. Please fill out and return the Membership Application linked above, to the NDA office. Once it is processed, and any dues are paid, your membership will be complete.
Please note that recent graduates enjoy graduated dues payments with the ADA Reduced Dues Program. The ADA will not charge any dues for the first full year following dental school graduation. In the second year, dues are 25% of full active dues; in the third year, dues are 50% of full active dues; and in the fourth year, dues are 75% of active dues. The Nebraska Dental Association offers similar reductions, and the program requires continuous membership upon graduation.