Many of Nebraska's Public Health Departments or community health clinics offer some level of dental service. The level of services are described and linked below the state map.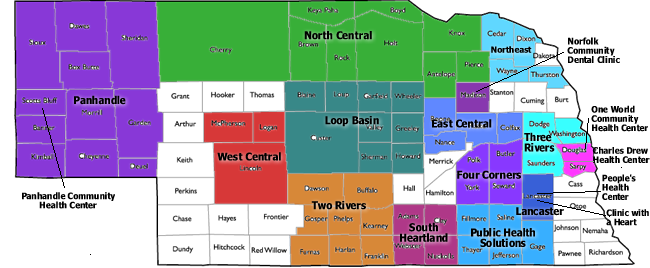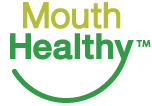 West Central Health Department
We have the newest technology in digital x-rays which have 80% less radiation exposure than standard x-rays. Our newest addition is a state of the art intra-oral camera for increased quality care. We accept Medicaid and Kid's Connection. We are currently providing emergency care and preventive care only. At this time we are unable to offer crowns, dentures, and root canals. We look forward to serving you and your dental needs.
Tooth Tour is a mobile dental clinic that will come to your school to provide preventive dental services. Services provided are cleanings, x-rays, fluoride varnish, exams, and intra-oral pictures. This program is open to all students and is currently provided at no cost.
Two Rivers Public Health Department
Young Children Priority One, a preventive dental program for high risk, underserved young children and parents in our District. This program provides dental health education, preventive dental supplies, antibacterial and fluoride varnish treatments provided by contracted program staff. We partner with WIC, Head Start and other similar programs to reach the population. We have been able to add sealant application and a bilingual Community Health worker to improve referrals for treatment in this last year.
TRPHD has been able to participate in the UNMC Dental Day program with Drs. Fagot, Mandelko and Hanson in Lexington, Lexington Schools and the UNMC College of Dentistry for nine years.
South Heartland District Health Department
A Registered Nurse provides supportive health information to families to assist with finding health care, including dental. Dental care to children in the SHDHD district. The children must be less than 18 years of age, have no regular dentist, not be covered by Medicare/Medicaid/Kids connection, and live in the SHDHD coverage area (Adams, Nuckolls, Clay, and Webster counties)
Public Health Solutions Health Department
We also provide dental preventive services for children in Head Start/ Early Head Start and preschools. Just this past year we served 7 towns and provided preventive services to 370 children 2-3 times during the school year. 460 total estimated fluoride varnish applications. 127 children referred for dental care. Of these 18 were severe cases. er of severe cases through preventive services.
We actively recruit children to get care through the UNMC Dental College Dental Day. We are looking to exceed our 23 referrals last year through a District wide solicitation directed to schools, the public and dentists.
Four Corners Health Department
The Public Health Nurse will assist eligible individuals and families by helping to find medical, dental or vision homes; Providing education on accessing appropriate levels of medical care; Identifying barriers, such as transportation and language that prevent the family; from obtaining health care services; offering information on community resources and assisting with referrals as needed
Three Rivers Health Department
Examining implementation of an Emergency Room Diversion program.
North Central District Health Department
Miles of Smiles is a school-based fluoride varnish program, available to preschool, elementary and middle school-aged student within the health district. Miles of Smiles utilizes Public Health Authorized Registered Dental Hygienists to conduct oral screening examinations and apply fluoride varnish. Fluoride varnish can be applied 2-6 times per year and can decrease cavity development by approximately 38%.
North Central District Health Department (NCDHD) is an approved Medicaid Provider. A $15.00 donation is requested for children not covered by Medicaid/Kids Connection, but there is no fee to participate in the program and children will not be denied services due to inability to provide a donation.
East Central District Health Department
As a community health center we offer basic general dentistry services to our patients to include restorative dentistry as well as preventative dentistry. The clinic works in collaboration with the University of Nebraska Dental College and often hosts dental and hygiene students who are nearly ready to graduate. Dr. Susan Alexander our dental director is a faculty member of UNMC.
The Nebraska Legislature passed LB157, provided funds to community health centers, including East Central District Health Department-Good Neighbor Community Health Center, to expand dental services to uninsured, low-income Nebraskans.
Lincoln-Lancaster Public Health Department
Clinic Services Available: Emergency, routine and preventive dental services provided at reduced fees; Interpretation provided. Services for Children: For low-income children without dental insurance; For children between the ages of 1 and 18; For children covered through Medicaid. Services for Adults: For low-income adults without dental insurance; For adults covered through Medicaid: For adults enrolled in General Assistance; For low-income pregnant women without dental insurance, and/or presumed eligible for Medicaid
Loop Basin Public Health Department
The Loup Basin Public Health Department has a public health nurse/case manager to provide health information, various referrals, and education to Kids Connection/Medicaid clients. The program connects clients to a medical, dental, and eye provider home. The goals of the program are to decrease the misuse of emergency room visits, decrease problem appointments for providers, and connect clients with needed resources and referrals in the district.
Loup Basin Smiles is a fluoride varnish program that is offered to all elementary schools in the district. Health department staff and local dental hygienists visit each school, offering the service of applying a fluoride varnish treatment to any students whose parents would like them to receive it. The health department asks for a $15 donation from families to sustain this program.
Panhandle Public Health Department
PPHHS does not provide services, coordinates UNMC Dental Day where students from the University of Nebraska Medical Center College of Dentistry provide services for children ages 4-18 who are uninsured or underinsured.
Panhandle Public Health District Health Educator Janelle Hansen works with PreK-4th graders in the region to learn about flossing, brushing, dental exams and other good oral health practices like drinking more milk and eating right. The very young students in preschool, kindergarten, 1st and 2nd grades enjoy a visit from Freddy Flossisaurus or Bugsy Malone, crazy-clad stuffed animals who extol the virtues of brushing inside and out, way in the back, top and bottom.
Brush 'n Up presentations are available in daycare homes and agencies, preschools and elementary schools from February through May, with a kickoff in February for Dental Health Month.
Panhandle Community Health Center
Dental services on a sliding fee scale.
Northeast Nebraska Public Health Department
Provides a link to local dentist offices accepting Medicaid under Find Local Resources.
Norfolk Community Dental Clinic
Routine Dental Care (cleaning, x-ray, examination), Fillings, Extractions, Emergency treatment, for pain, swelling, broken tooth, etc., Treatment of gum disease, Pediatric dental care, Partials, Dentures, Bridges, Crowns, Root Canals, Prenatal Dental Care
People's Health Center
Dental services on a sliding fee scale.
Charles Drew Health Center
Dental services on a sliding fee scale.
One World Community Health Center
For people without insurance we base our charges on a sliding fee scale. Proof of one month's worth of income is required to determine the fees for services rendered. OneWorld accepts cash, check, Visa, MasterCard, or Discover, most forms of insurance, Medicare, and Medicaid.
Clinic with a Heart
Offering free urgent dental care during Tuesday evening hours, provides a point of service for clients with tooth pain. Referrals made to Lincoln-Lancaster Health Department Dental Clinic and People's Health Center for urgent dental care needs.