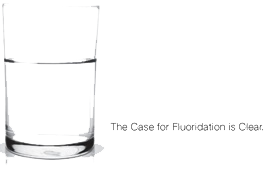 Fluoridation Facts
There is a lot of junk science available on the Internet trying to scare people into believing that their community is poisoning the water. Fluoridation of community water is simply the adjustment of the existing, naturally occurring fluoride levels in drinking water to an optimal fluoride level recommended by the U.S. Public Health Service at 0.7 parts per million. This adjustment will provide an effective level of fluoride to reduce the incidence of tooth decay while minimizing the rate of fluorosis in the general population.
The Center for Disease Control and Prevention, National Cancer Institute, and Surgeon General Dr. Regina M. Benjamin also support community water fluoridation.
Based on a substantial body of peer-reviewed evidence, the ADA supports optimal fluoridation of community water systems as a safe and effective means of caries prevention. For additional information about water fluoridation, visit the ADA's Fluoridation page or click here for the ADA's Fluoridation Facts publication. This 71-page booklet is a comprehensive encyclopedia of fluoridation facts with over 350 scientific references. Fluoridation Facts includes information from scientific research in an easy to use question and answer format on the topics of effectiveness, safety, practice and cost-effectiveness of fluoridation.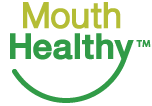 What is Basic Oral Care?
For most of us, thorough daily oral hygiene lays the groundwork for a healthy smile. Just a simple routine of brushing and flossing, in addition to regular dental checkups, can be enough in most cases to help prevent tooth decay, gum disease, and bad breath. For more information, check out Mouth Healthy!

What Are Good Brushing Techniques?
Since there are various techniques for brushing your teeth, it's a good idea to ask your dentist which one to use. Here are a few tips to help you develop a good brushing routine:
• Brush twice a day.
• Use a fluoride-containing toothpaste to help prevent tooth decay.
• Place your brush at a slight angle toward the gums when brushing along the gum line.
• Use a gentle touch - it doesn't take much pressure to remove the plaque from your teeth, and a vigorous scrubbing could irritate your gums.
• Concentrate on cleaning all the surfaces of the teeth.
• Brushing your tongue gently can help remove bacteria that can cause bad breath.
How Important is Flossing?
Cleaning between your teeth is every bit as important as brushing. Since brushing can't effectively clean between the teeth, it's important to use floss to get to those areas. Clean between your teeth once a day. As with brushing, use a gentle touch to avoid injuring your gum tissue.
Does the NDA give referrals for dentists?
No. Because approximately 80% of the dentists in Nebraska are members of the association, we do not give referrals.
How do I file a complaint against a dentist?
If the complaint is about the quality of care you received and the dentist is a member of the Nebraska Dental Association, you can file a complaint with the Peer Review Committee.
The purpose of the Nebraska Dental Association (NDA) Peer Review process is to review matters concerning misunderstandings, inadequate communications, and serviceability between patients and their dentists. Peer Review is offered without cost to help with such problems if the dentist is a member of the Nebraska Dental Association.
Criteria for case acceptance: The dentist must be an NDA member; The case must concern itself with Appropriateness of Treatment and/or Quality of Care; Receipt of request for mediation must be within two years of completion of treatment; Billing issues and/or fee disputes.
Cases not accepted for Mediation Review: Complaints against dentists who are not NDA members; Cases in litigation; Dentist to dentist complaints; Alleged fraud and other violations of the state dental practice acts.
Click Here to see if the Dentist is a member of the NDA If the Dentist is a NDA member, click on the link at the bottom of this page for a Mediation form.
If the dentist is not a member of the NDA, contact HHS Regulation and Licensure, Division of Investigations, 301 Centennial Mall South, P.O. Box 95164, Lincoln, NE 68509-5164. Phone: (402) 471-0175
Can my dentist charge me for a copy of my dental records?
Yes. Under Nebraska State law, a patient may request a copy of the patient's medical records, or they may request to examine such records. The request and any authorization shall be in writing and shall be valid for one hundred eighty days after the date of execution by the patient.
The provider shall furnish the person making the request a copy of such records not later than thirty days after the written request is received.
A provider may charge no more than twenty dollars as a handling fee and may charge no more than fifty cents per page as a copying fee. A provider may charge for the reasonable cost of all duplications of medical records which cannot routinely be copied or duplicated on a standard photocopy machine. A provider may also charge an amount necessary to cover the cost of labor and materials for furnishing a copy of an X-ray or similar special medical record. If the provider does not have the ability to reproduce X-rays or other records requested, the person making the request may arrange, at his or her expense, for the reproduction of such records.
Which dentists in Nebraska accept Medicaid?
To find dental Medicaid providers in your area, click on InsureKidsNow.gov
What public health clinics offer dental services at reduced fees?
Some public health departments offer dental services. To find the health department nearest you, click here.
Hope Medical Outreach Coalition in Omaha works with volunteer dentists who see patients in their own offices or at a community health center. Creighton University Dental School and the University of Nebraska Medical Center Adult Dental Clinic both see patients in their offices and donate their time, expertise and facilities to care for Hope patients. In Lincoln, People's Health Center accepts Medicaid and has a sliding fee schedule based on your ability to pay.
Is there a dental school in Nebraska?
Yes, there are two - The College of Dentistry at the University of Nebraska Medical Center in Lincoln, NE, 402-471-1301, and Creighton University School of Dentistry in Omaha, NE, (402) 280-5060.
What is the difference between a DDS and a DMD?
There is essentially no difference; they are both degrees in general dentistry. Some dental schools give the DDS (Doctor of Dental Surgery) degree and others the DMD (Doctor of Medical Dentistry) degree.
What does MS or MSD mean?
The dentist you are referring to is a specialist. MS means Master of Science and MSD refers to a Masters of Science in Dentistry - the degree a dentist earns when specializing in one area of dentistry.
What are the specialties in dentistry?
Approved by the Council on Dental Education and Licensure , American Dental Association, such as Dental Public Health, Endodontics, Oral and Maxillofacial Pathology, Oral and Maxillofacial Radiology, Oral and Maxillofacial Surgery, Orthodontics and Dentofacial Orthopedics , Pediatric Dentistry, Periodontics, Prosthodontics.
What does PC after a dentist's name stand for?
This is a legal abbreviation - Professional Corporation. A PC dentist is one who has incorporated his practice for income tax purposes. This abbreviation has nothing to do with his or her ability as a dentist.
What about fees charged by dentists in Nebraska?
Nebraska is a no-fee schedule state. There is no set fee for dentistry. The individual dentist is the only person eligible to determine a fair fee for time and services rendered. You will need to discuss fees with your dentist and may encounter a variation in fees per office. If you have any question about the cost of your treatment plan, you may seek a second opinion from another dentist.